---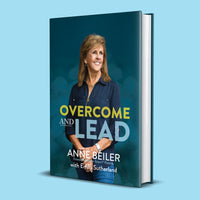 Sale
Overcome and Lead recounts the powerful stories and essential lessons learned from Anne Beiler's time as the founder of Auntie Anne's®, the world's largest pretzel franchise. As a former Amish girl with an eighth-grade education, Anne had many obstacles to overcome as she transformed into one of the first female founders of an international franchise-the greatest obstacle, however, was herself.
With no capital, no formal education, and no business plan, Anne launched Auntie Anne's after a series of tragic life events left her broken, traumatized, and in a deep depression. As Anne and her team grew the company, she also grew herself personally and professionally. Join Anne as she takes you on a journey from feeling overwhelmed and inadequate to being an empowered and confident leader.
If you want to make a difference in your area of influence, this story is for you. It is for those of you currently leading people-whether at work, home, or in your community and for those aspiring to lead someday. Building Auntie Anne's was a journey that required Anne to bring her whole self-both the gifts and the broken bits-to build something bigger than she ever imagined. Overcome and Lead will help you to do the same.
Looking to purchase for your entire leadership team? Grab 10 or more copies at a discounted rate of $18.95! Discount will be applied at checkout.